Meet the Team
Director - Dr Keith Williams
Keith joined Kyle Fisheries as Director in 2014, bringing valuable experience gained whilst working for the Cromarty Firth District Salmon Fishery Board and the Ness & Beauly Fisheries Trust. Keith has an MSc in Marine and Fisheries Science from Aberdeen University and a PhD from Cardiff University that involved a study on the relationship between nutrient levels and salmon production. He has had several academic papers and numerous scientific reports published. His particular skills include telemetry techniques for both juvenile and adult salmon in addition to electro-fishing and seine netting surveys.
Prior to becoming director Keith represented the Kyle of Sutherland Angling Association (KOSAA) as a member on both the Kyle Fishery Board and the Kyle Trust.
Keith is also a keen salmon and trout fisherman and he has fished extensively in the British Isles and beyond.  Perhaps ill-advisedly though, his other interests include a lifelong devotion to the fortunes of Manchester City Football Club.
Climate Resilience & Habitats Officer - Sean Dugan
Originally from Nethy Bridge, Sean joined Kyle of Sutherland Fisheries Trust in March 2022. A pupil of the Salmon in the Classroom initiative, Sean developed an interest in rivers from an early age. Having grown up beside the sea trout and salmon spawning grounds of the Cairngorms, Sean volunteered on native woodland restoration initiatives and started working life with The Spey Foundation.
Sean studied physical geography at The University of St Andrews, focusing on the study of global warming before working for Scottish Fisheries Coordination Centre/ Fisheries Management Scotland for nine years.
Sean looks forward to working together with landowners and the local community to continue restoring native riverbank woodland to protect native fish and their habitats under global warming.
A jam-making fanatic, Sean's personal interests also include, sea trout fishing and Canadian canoeing.
Business Administrator - Jacqui Hamblin
Jacqui, is an office manager with many years experience and is responsible for the general administration of the Kyle Trust and Board. Jacqui's earlier years were in hotel management working all over Scotland and she spent over 30 years living and working in the Channel Islands, where she brought up her family.  She now owns and runs a small B&B in Golspie as well as working part time for Kyle Fisheries.
Jacqui says "I love coming into work every day, for one thing the journey from Golspie is glorious in any weather. Mainly though it's because of the people I work with. They are a great team who work tirelessly to protect our fish and overcome the many obstacles and natural threats they encounter to our environment"
"My job is not only office admin, it can be so varied and diverse that it keeps me interested and engaged. We all support each other but it's important to keep the spirits lifted by having a laugh in between all the serious business"
Fisheries Assistant - Ross Gollan
Ross grew up locally in the village of Edderton and joined the Kyle of Sutherland Fisheries Trust in March 2022. After attending Edderton Primary School and Tain Royal Academy, Ross studied Physical Geography at the University of Glasgow with focus on Geomorphology and Glaciation.
Post university, Ross travelled and worked in New Zealand before taking on a seasonal job as a Bailiff for the Kyle of Sutherland Fisheries Board. Having always had a keen interest in the natural world, Ross looks forward to working with the fisheries team on all aspects of freshwater fisheries conservation.
Ross spends most of his free time running up and down hills but enjoys sea kayaking and cycle-touring when the weather allows.
On secondment to Scottish Fisheries Co-ordination Centre (SFCC) - Leanne Munro
Leanne went on secondment to SFCC in January 2022 and will be returning part-time to Kyle Fisheries in July. During her time at SFCC, Leanne is helping to create standard data collection tools for rivers and fisheries trust as well as review and update current SFCC protocols.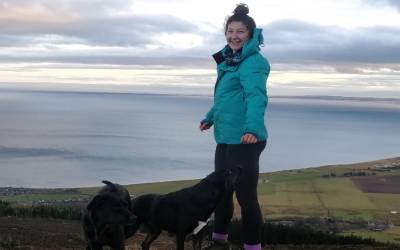 In 2021, Leanne achieved a BSc in Marine Science with Oceanography and Robotics at the University of the Highlands and Islands (UHI) – SAMS, where she enjoyed learning a variety of modules which included the biological clocks of animals and conservation to the dynamics of coastal waters and marine modelling. During her summer breaks, Leanne has worked a couple of seasons as an assistant biologist at the Kyle of Sutherland Fisheries Trust where she got stuck into electrofishing, adult salmon sampling, and GIS mapping just to name a few.
Science & Mitigation Officer - Vacant
Fishery Enforcement Team
Angling in the Kyle of Sutherland District contributes 3 to 4 million pounds annually to the local economy and supports 80-90 full-time-equivalent jobs. Poaching can therefore not only cause irreparable environmental damage, but also have a significant impact upon the local economy and damage the rural community.
The Kyle Fishery Board employ Water Bailiffs to protect the Kyle catchment from the illegal poaching of salmon, sea trout and other fish species. The bailiffs are empowered under the Salmon and Freshwater Fisheries (Consolidation) (Scotland) Act 2003.  The bailiffs are warranted to enforce the legislation and have statutory powers of entry, search and seizure.  The production by a bailiff of their warrant is sufficient authority for the exercise of the powers. Along with enforcement the bailiffs are responsible for the day to day delivery of our river management strategies and as part of that the rivers are patrolled 7 days a week. Their powers extend to the whole of the Kyle district and to any adjoining salmon fishery districts.
Whilst poaching activity may have appeared to be declining in recent years. During Covid restrictions poaching activity increased tenfold and the Water Bailiffs were ever active in protecting our rivers.  The number of arrests and convictions may be low, but there is no doubt that having a dedicated and professional enforcement team is a vital deterrent in preventing illegal activity.